NEMA is prioritising collaboration and resilience building …reconvenes the National Emergency Coordination Forum (ECF)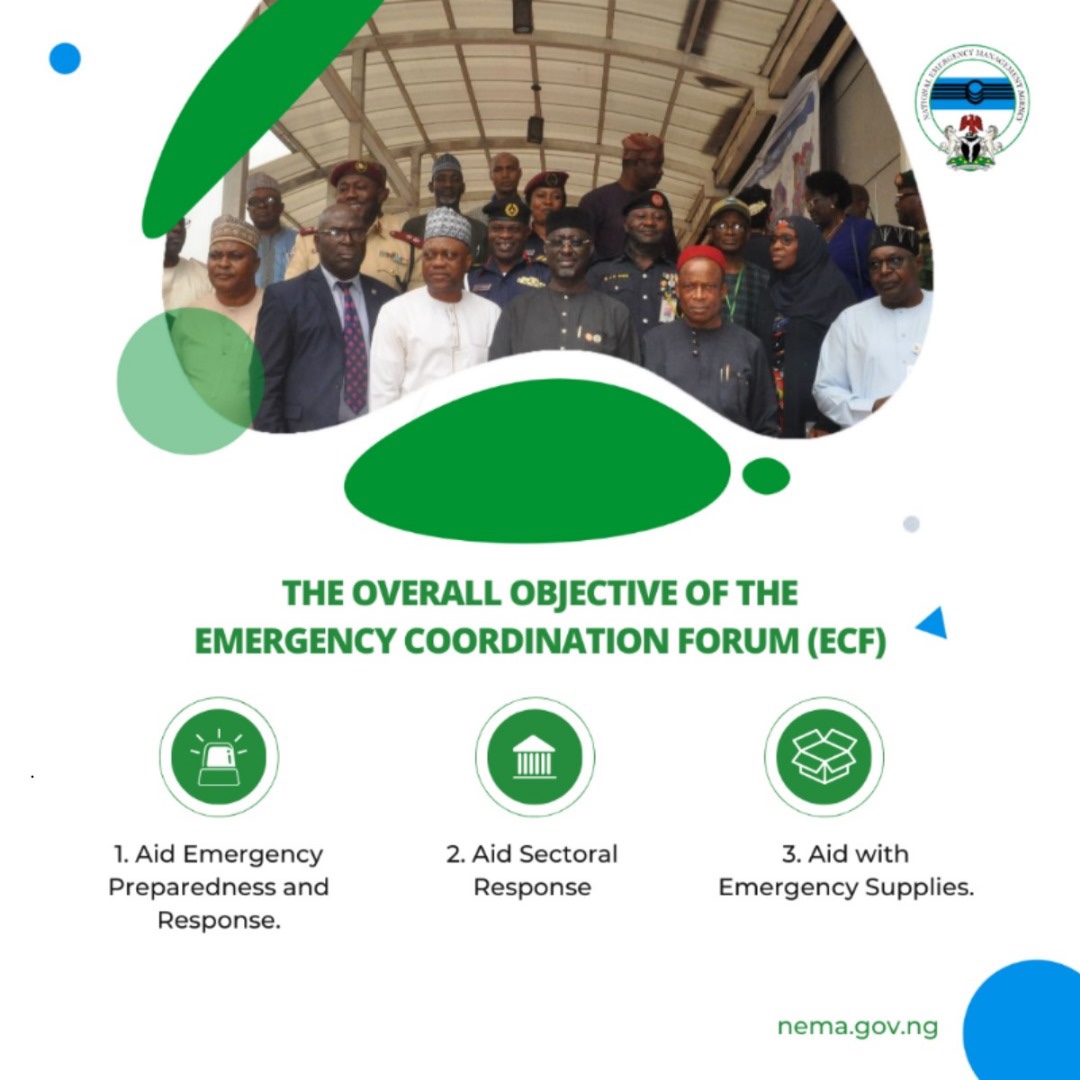 …distributes relief and livelihood materials under the Special National Economic and Livelihood Emergency Intervention (SNELEI)
… urges localization of disaster early warning measures to grassroots
The National Emergency Management Agency has reconvened the National Emergency Coordination Forum (ECF), a meeting of multi-sectoral stakeholders comprising agencies of Government, international organisations and the United Nations systems. These include the National Hydrological Services Agency (NIHSA) which provides hydrological data and flood forecasts, Nigerian Meteorological Agency (NiMet) which offers meteorological insights for weather-related risks, National Bureau of Statistics (NBS) which supplies critical data for informed decision-making, the Federal Ministry of Agriculture and Rural Development (FMARD) which contributes agricultural expertise for food security, the United Nations High Commissioner for Refugees (UNHCR), United Nations Children's Fund (UNICEF) and the International Organization for Migration (IOM) which addresses the needs, protection, and migration of displaced populations.
Others are the World Food Programme (WFP) which ensures distribution of food assistance to vulnerable communities, the United Nations Department of Safety and Security (UNDSS) which assists with security coordination to protect humanitarian efforts, the World Health Organization (WHO) which manages public health concerns, medical support, and disease prevention and the Office for the Coordination of Humanitarian Affairs (OCHA) an organ of the United Nations Secretariat that coordinates humanitarian responses for effective aid delivery and capacity building.
Addressing the event which held in Abuja on Thursday August 10, 2023, the Director General of NEMA, Mustapha Habib Ahmed, who led a team of senior management staff of the agency, harped on the imperative of collaboration in emergency management. He said this was "in view of the various emergencies we are currently being faced with in Nigeria. The insurgency in the North-East, the banditry challenge in the North-West, the communal conflicts in North-Central and the flood disasters in various parts of the country are relevant points of reference."
Continuing Ahmed told the gathering that "I stand before you to emphasize the critical importance of collaboration between humanitarian agencies. In a world that is becoming increasingly interconnected and interdependent, our ability to harmonise efforts to build disaster resilience and respond effectively to complex global challenges hinges on our capacity to work together seamlessly and synergistically."
Reminding the audience of the disastrous flooding of 2022 which claimed 665 lives, displaced 2,437,411 persons and affected circa 4,476,867 persons, he informed them of ongoing proactive efforts aimed at mitigating the effects of flooding this year and they include the production and dissemination of Climate–Related Disaster Preparedness and Mitigation Strategies based on the 2023 Seasonal Climate Prediction (SCP) released by NiMet and the Annual Flood Outlook (AFO) by NIHSA; production of flood risk maps; advocacy to State Governments whose states may likely be affected by the impending climate-related disaster in 2023 based on predictions; de-escalation of the Early Warning messages to States; TV and radio appearances; TV and radio jingles and issuing press releases, among other campaigns.
The DG NEMA also informed the gathering that where proactive measures are not adequate and states and communities are impacted, NEMA will work with other partners under the Special National Economic and Livelihood Emergency Intervention (SNELEI) to provide succour to affected people in IDP camps and the host communities to build their resilience through various livelihood support interventions.
States impacted by the 2022 flood are already receiving support under the intervention. Affected persons in Abia, Ebonyi, Kano, Lagos, Gombe and Borno among others have received various food and non-food items as well as agricultural inputs to help them recover from the devastating effects of flooding.
In a related development, Mustapha Habib Ahmed in a speech at the flag off in Kano of the Special National Economic and Livelihood Emergency Intervention (SNELEI), noted that "NEMA is supporting sub-national level actors in order for them to take ownership of their responsibility for disaster preparedness, mitigation, response, and recovery. Because disasters are local, adequate capacity building, funding and equipment are necessary to equip and up skill lifesaving first responders, making it imperative that we support our Local Emergency Management Committees (LEMCs) to take Disaster Risk Management to the communities."
As these efforts continue, NEMA believes that collaboration will communicate a powerful message of unity and solidarity to those the agency seek to serves and that unity can inspire trust and confidence among affected communities, encouraging them to actively participate in their own disaster preparedness, mitigation, response, recovery and rebuilding process.