Lionel Messi Wins 8th Ballon d'Or Award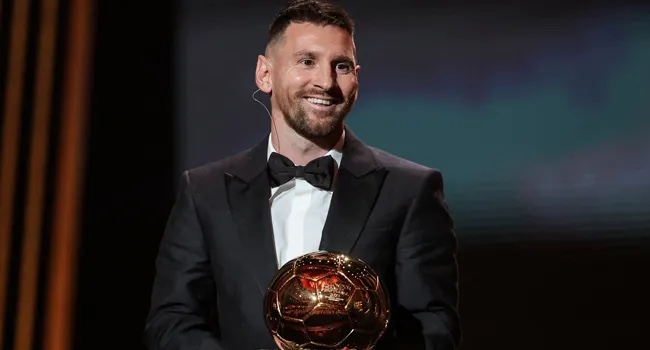 Argentine superstar Lionel Messi has won the 2023 Ballon d'Or, making it a record-extending award for the 2022 World Cup winner.
With the current feat, the Argentine player has won a total of eight Ballon d'Or awards.
He clinched the award in 2009, 2011, 2012, 2013, 2016, 2019, 2021.
The Inter Miami star was named the winner of the prestigious prize on Monday night in the French city of Paris in what many see as a fitting reward for leading the Abiscelete to a World Cup triumph late last year.
Messi, 36, succeeds Karim Benzema as the winner of the prize awarded for his performances last season when he inspired Argentina to glory at the World Cup.
It was his displays in Qatar, when Messi dragged his country to a victory that crowned his remarkable career, that allowed Messi to see off stiff competition from Kylian Mbappe and Erling Haaland in particular.
Haaland came second in the final voting, with Mbappe third and Kevin De Bruyne in fourth place.
Former Barcelona superstar Messi scored seven times at the World Cup and was named the tournament's best player after Argentina beat France on penalties in the final in Doha.
Yet Messi, who won his first Ballon d'Or in 2009, also had an underwhelming final season at Paris Saint-Germain, before leaving to play for Inter Miami in Major League Soccer.