Breaking News: Cristiano Ronaldo 'Could be Reportedly Sentenced to 99 Lashes' for Hugging a Female Painter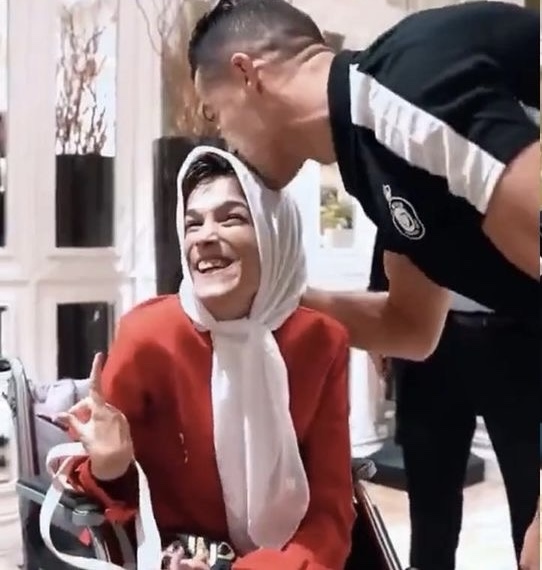 Media outlets in Iran are reporting that Cristiano Ronaldo could face 99 lashes for adultery next time he steps foot in the country.
The reports, from Mundo Deportivo, come after the former Manchester United forward received a hero's welcome in the country when Al Nassr played Persepolis in the group stage of the Asian Champions League.
As part of Ronaldo's welcome to the country he was showered with gifts from adoring fans, including customised Persian rugs and paintings of the footballer.
And it is the paintings he received from artist Fatima Hamimi that has landed him in trouble with some of the country's zealous legislators.
Hamimi, an artist based in Persepolis, is 85 per cent paralysed and uses a wheelchair for mobility.
She does not have the use of her hands and instead paints using her feet.
To thank Hamimi for his gift, Ronaldo allegedly exchanged a hug with the painter and kissed her on the cheek.
This angered a group of religiously strict lawyers in Iran because under Iranian law, touching a woman when in a relationship is a form of adultery.
Ronaldo has been with model Georgina Rodriguez since 2016 and they have two children together, Alana Martina and Bella Esmeralda.
Rodriguez is also mother to his three other children, eldest child Cristiano Jnr, and twins Eva and Mateo, who were born via surrogate.
Rodriguez and the kids followed Ronaldo to Saudi Arabia when he joined Al-Nassr, in a deal which was confirmed on New Year's Eve last year.
Mundo Deportivo report that Iranian TV station Sharq Emroz say that a sentence has already been handed down to Ronaldo and he will be subjected to 99 lashes for adultery next time he enters the country.