ALAAFIN OF OYO: ONLY 49 BONAFIDE PRINCES ARE ELIGIBLE (Full Names)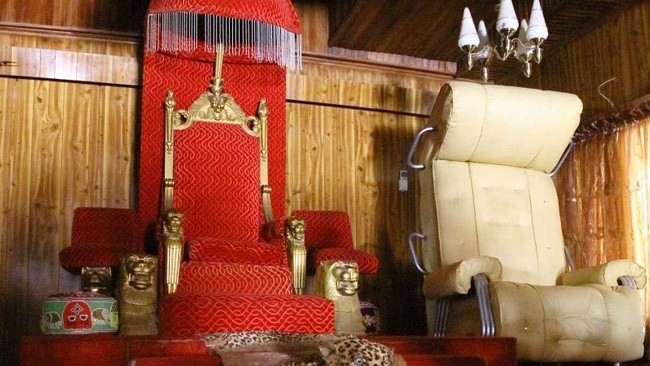 The traditional stool of the Alaafin of Oyo is the most revered traditional stool and institution in Yorubaland. The Alaafin is the grand custodian of Yoruba culture and tradition.
Since the transition of His Imperial Majesty, Oba Lamidi Olayiwola Adeyemi III, Iku Baba Yeye, The Alaafin of Oyo who was reputed to be walking encyclopedia of Yoruba history the world have continuously been glued to the news owing to the facts that over the last seventeen months the traditional stool have remained vacant.
In Oyo, there is a proverb that says "bi a ba pe lori imo, esin kesin a ma bani ni ibe (translation: when you stay too long on a feaces unpalatable flies will definitely flock around you). There have been rumors and counter rumors and misleading information about the authenticity of the list that was submitted for the screening interview for the highly revered traditional stool in Yorubaland.
For the records, "itose loni Oyo" (in Oyo there is due process) there are only forty-nine (49) bonafide names from the Agunloye Ruling house after the peace meeting that was held on the 17th of August, 2022 after exhaustive deliberations submitted to the Oyomesi who are the kingmakers through Baba Iyaji (head of the Princes and Princesses) Chief Mukaila Afonja which was signed and submitted by the Mogaji of Agunloye Ruling house Prince Adeladan S. Ademola on the 23rd of August, 2022 as the list of Princes who are eligible to vie for the vacant throne of the Alaafin of Oyo.
For the records it is pertinent that we state the entire names in the chronology that it was listed as contained in the list with all Princes and Mogajis of the ruling houses.
As at today, the world is waiting patiently and impatiently for the selection of the heir apparent to the throne from the forty-nine bonafide names submitted of which same would definitely be with the government both at the local and state level. The world is watching and waiting for the announcement and these are the names of all the bonafide Princes:
OKE APO (GBADEGESIN).
PRINCE ABDUL RASIDI ADEWALE GBADEGESIN.
PRINCE (DR) ABIDOYE GBADEGESIN
PRINCE ABDRASAK ADEGOKE GBADEGESIN
PRIMCE KABIRU ADEBAYO GBADEGESIN
PRINCE ISIAK OLATUNDE GBADEGESIN
PRINCE ABASS ADELEKE GBADEGESIN
PRINCE MONJEED ABIOLA GBADEGESIN
PRINCE LUKUMAN ADELODUN GBADEGESIN
PRINCE BABAJIDE ADEROJU GBADEGESIN
PRINCE ABDMONJEED ADEKUNLE GBADEGESIN
ILAKA OLAWUWO
PRINCE (DR) AJIBADE ADEBAYO ADELADAN
PRINCE TELLA BILIAMINU KOLAWOLE
PRINCE TIJANI HAMEED ADEBAYO
PRINCE SALAMI SAHEED BABATUNDE
PRINCE LADIGBOLU ADEWALE ADEREMI
PRINCE ADEKUNLE MUTAHIR ADEGBOYE
PRINCE (ALH) TESLEEM ORIADE LADIGBOLU
PRINCE ADEKUNLE KAMAL ADEYEMI
PRINCE ADEBISI JELEEL ADENIYI
ISALE-OJA
PRINCE OLUOKUN KASALI AGUNLOYE
PRINCE ADEKUNLE GAFAR ADEBAYO
PRINCE TELLA MAROOF ADENIYI
PRINCE OWOADE WAHAB FOLORUNSO ADEREMI
PRINCE ADEWUSI MUKAILA OLANREWAJU
PRINCE OLAIDE DAUDA OLADIMEJI
PRINCE TELLA ADENIYI KAREEM
PRINCE AGUNLOYE ADELAYO ADEREMI
PRINCE ADEROGBA IDOWU AGUNLOYE
PRINCE MOROUNRANTI HAKEEM OLAMIDE ALAYOAYO
PRINCE (BARR) ADEGOKE ADEMOLA RASAQ ALAYAYO
PRINCE ISIAKA REMILEKUN ENITAN ADENIYA
PRINCE ADEMOLA RASAK ALAYOAYO
PRINCE AKINADE ABDUR RAHAMAN ALAYOAYO
ARCHBISHOP PRINCE LAWRENCE AYO SANDA LADIGBOLU
PRINCE LUKMAN ALABI OLUGBENGA LADIGBOLU
PRINCE HAKEEM ABIODUN ADEYANJU AYINDE LADIGBOLU
PRINCE AYOBAMI ADEWUMI SANDA LADIGBOLU
PRINCE AMIDU ABIODUN LADIGBOLU
PRINCE MUIDEEN ADEKUNLE LADIGBOLU
PRINCE KOLADE TUNDE SAANI LADIGBOLU
PRINCE ADEGBOYEGA IBRAHIM LADIGBOLU
PRINCE ABDULQUADRI OPEYEMI LADIGBOLU
PRINCE (BARR) ADEGOKE ADEMOLA RASAQ ALAYOAYO
PRINCE ISIAKA REMILEKUN ENITAN ADENIYA
PRINCE ADEMOLA RASAK ALAYOAYO
PRINCE AKINADE ABDUR RAHAMAN ALAYOAYO
ARCHBISHOP PRINCE LAWRENCE AYO SANDA LADIGBOL
PRINCE LUKMAN ALABI OLUGBENGA LADIGBOLU
PRINCE HAKEEM ABIODUN ADEYANJU AYINDE LADIGBOL
PRINCE AYOBAMI ADEWUMI SANDA LADIGBOLU
PRINCE AMIDU ABIODUN LADIGBOLU
PRINCE MUIDEEN ADEKUNLE LADIGBOLU
PRINCE KOLADE TUNDE SAANI LADIGBOLU
PRINCE ADEGBOYEGA IBRAHIM LADIGBOLU
PRINCE ABDULQUADRI OPEYEMI LADIGBOLU
PRINCE ISMAILA ADEREMI BELAWU
PRINCE ADEBIMPE WASIU ABIODUN LADIGBOLU
PRINCE TAOFEEK ADEWUMI LADIGBOLU
PRINCE RASAKI KAMORUDEEN
OWOADE AGURE
PRINCE OWOADE HAKEEM
PRINCE OWOADE IBRAHIM
PRINCE OWOADE AKEEN