Glo lauded as businesswoman receives Festival of Joy house prize in Port Harcourt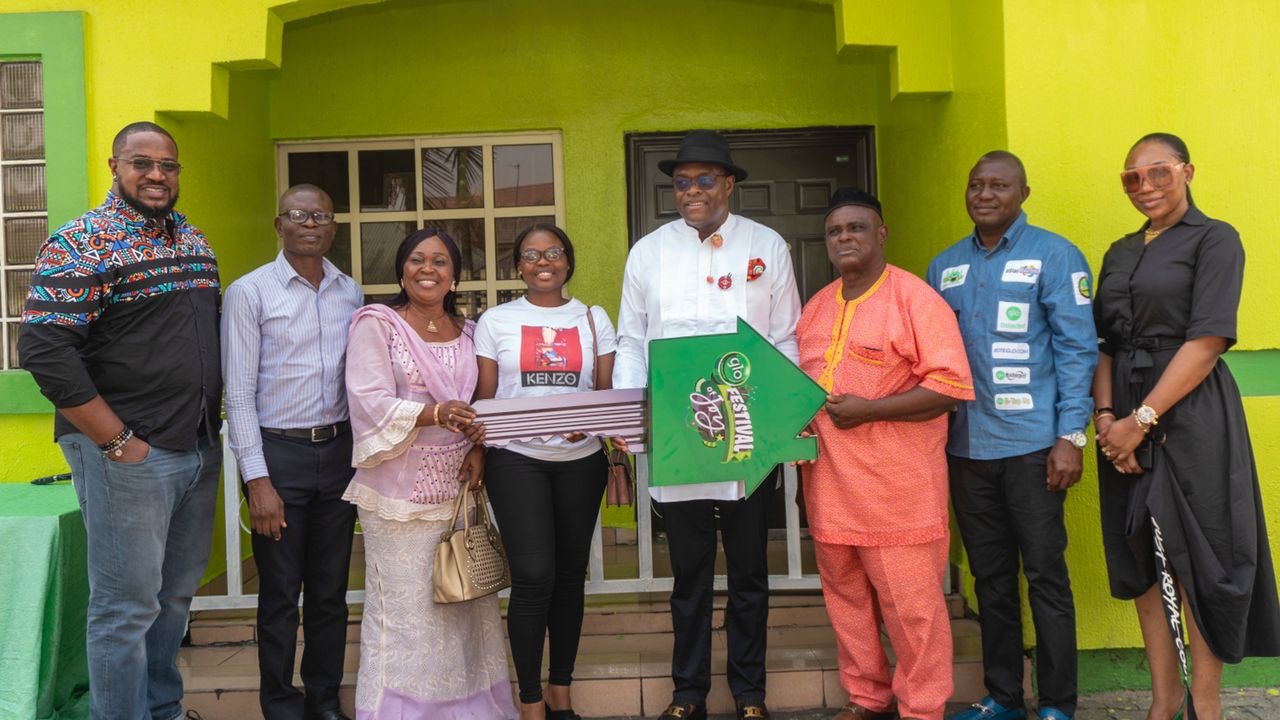 Globacom on Friday received torrents of encomiums in Port Harcourt, Rivers State, where a 31-year-old female entrepreneur was handed keys to a three-bedroom house she won in the company's subscriber-loyalty promo, Festival of Joy
Executive Chairman of Obio-Akpor Local Government, Barrister George Ariolu, noted at the presentation ceremony that Globacom had changed the lives of its subscribers positively with the promo. The local government chairman who lauded the company for organising the unprecedented subscriber-reward promo, added, "I must congratulate and applaud Globacom for this and I wish other networks can copy it".
Miriam Okeanya, who lived with her parents in Obigbo, River State, received the keys to the beautiful three-bedroom house in the presence of members of her family and Nollywood celebrities Ebube Nwagbo and Mofe Duncan.
In the same vein, Head of Licencing and Operations of the National Lottery Regulatory Commission (NLRC), Port Harcourt, Mr Walson Dambo, gave kudos to Globacom for being faithful in conducting open draws and ensuring that winners receive their prizes promptly.
The winner however kept believing it was too good to be true though she had been informed of her good fortune after her number was drawn on Thursday. "It is a lie", she shouted repeatedly.
Said she, "Nothing gave me an inkling at any time from January till December that I was going to become a landlady at the end of the year. It feels great and shocking at the same time. I am grateful to Glo. This Festival of Joy, I think, was put in place for me".
Okenya revealed that though she saw the advert on TV and decided to opt in by dialling the *611# code, she didn't have any idea that fate and Glo were working together to make her dream of owning her own house possible as 2022 winds down.
Globacom's Regional Manager, Mr Okechukwu Nwaeze, encouraged subscribers to dial *611# and recharge with N500 weekly to be eligible to win rechargeable fans, N2,500 monthly recharge for the sewing machines, N5,000 monthly recharge for the generator, N10,000 monthly recharge for the car, and N20,000 for three bedroom houses.