Rhythm and Laughter with Jedi and Friends in Full Swing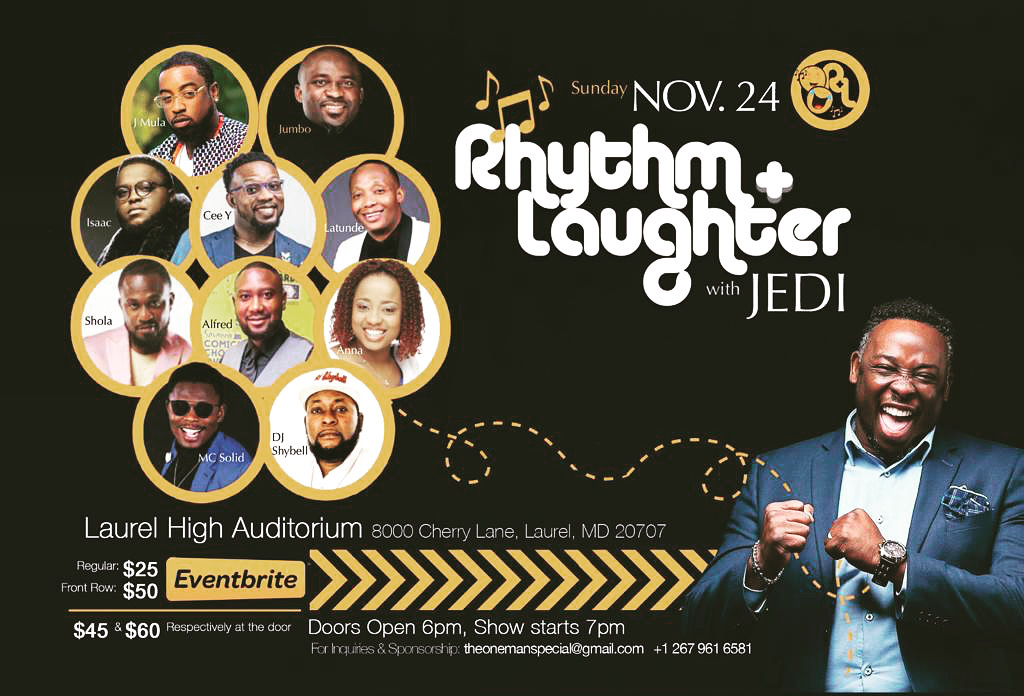 His comic tenacity is diverse. Precise punch lines, mature and creative craftsmanship. MC of reputes. Oluwatosin Jedi Ayo has carved an inch for himself in the entertainment industry both at home and abroad over the years. 
Comes November 24, 2019 DMV (District of Columbia, Maryland, Virginia, USA) will be lit has all preparation for his forth coming comedy show; Rhythm and Laughter is in full swing.
After taking a long vacation from the Nigeria entertainment scene, Jedi, recently, in commemorating his 40th birthday returned to his roots (Naija) and he was shown a lot of love. The multi-talented act visits Nigeria and the show was a huge success.
However, Rhythm and Laughter with Jedi and friends will welcome artists such as Ceey, MC Solid, Anna Alfred, Latunde, Issac Gerald, Jumbo, JMulla, Shola and Dj Shybell to mention a few.
According to one of Naija ace comedian, "We have to set the record straight. We are the best at what we do.  The fusion of comedy and music is enormous. African/Americans need to relax enjoy good comic acts as well as good music. 
Like they say; "All work no play, makes Jack a dull dude". This is Thanksgiving session and we all need celebrate in one accord. Let's come out and laugh and dance." He reels off.
The venue is Laurel High Auditorium, 800 Cherry Lane, Laurel MD 20707. Early bird ticket is available online via eventbrite.com. General admission, $25, front row seating $50.
Door open at 6pm and show starts at 7pm prompt.