Meet TIAMIYU ADESEWA, The New Face Of Podium RadioTV in Nigeria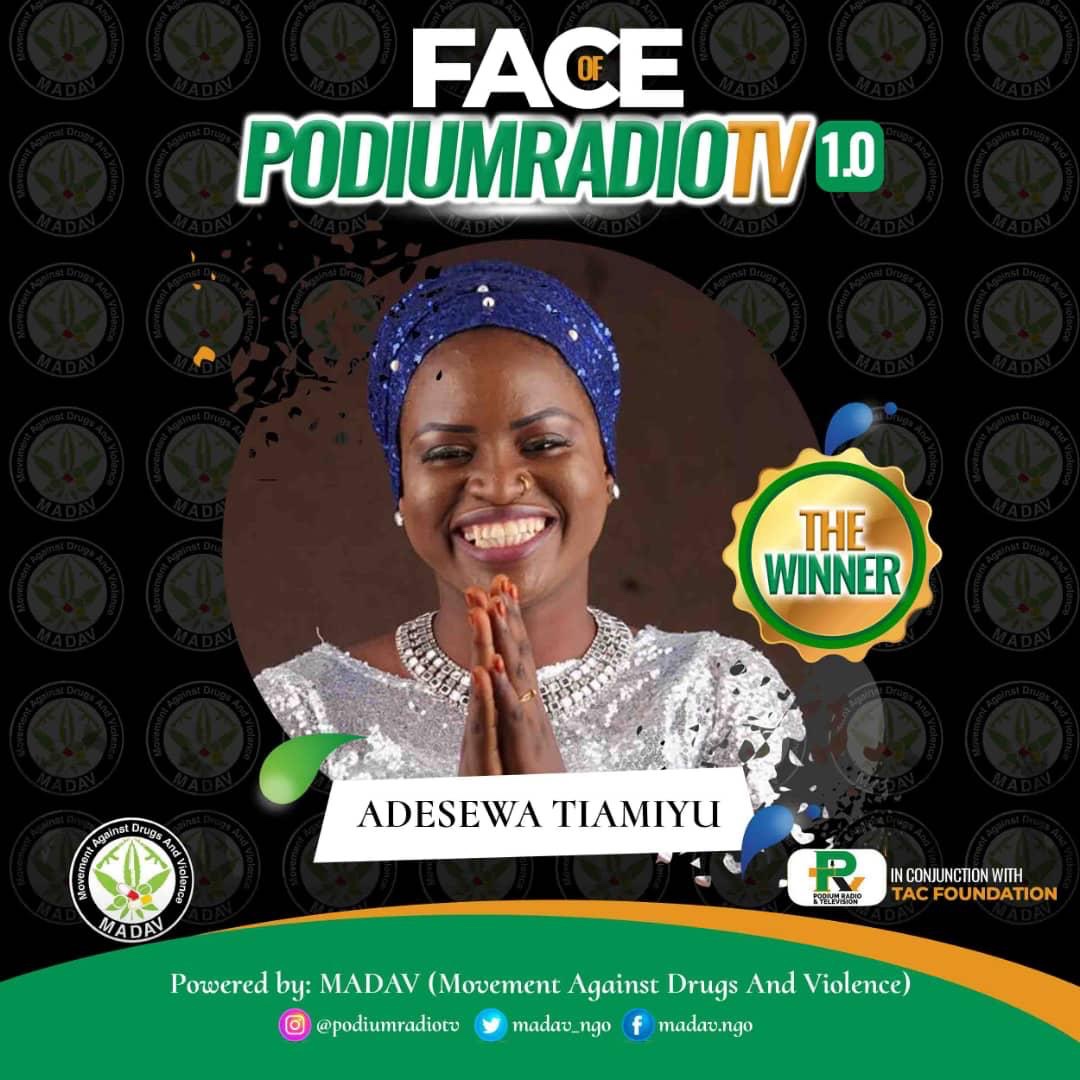 She's smart, intelligent and beautiful. She recently won the just concluded Face of Podium Radio and TV in Nigeria. Her name is Adesewa.
Hails from Lagos, Adesewa is the first born of her family and a graduate of Yaba College of Technology. Spend most of her live in Lagos but loves traveling and reading. Adesewa, however speaks with Shybellmedia on her career and her new achievement has the new Face of Podium RadioTV in Nigeria excerpt…
Can we meet you?
My names are, Tiamiyu Aminat Adesewa, 24years old, a Nigerian, from Lagos state to be precise.
My primary education begins with Heritage of God nursery and Olomu community high school as my secondary education. I graduate recently with my National Diploma (ND) at Yaba college of Technology last year, planning to apply for higher National Diploma soon.
I am the first child of my family, a makeup artist and a tax consultant.
How did it all started?
I am an entertainment person, love to always be on the main stream which makes my passion for makeup glows. I started has a makeup artist why in school and also as a tax consultant. Thou, I most confess, I love and enjoy what I do for a living, until recently when I participated in the just concluded Face of Podium RadioTV which is my new baby.
Apart from your discipline in school, do you have other ambitions?
I want to be a jeweler and a great ambassador of charity organisation willing to fight against drugs and violence.
Were your parents part of your successful story and if yes, what was there contributions?
No, but my guardian has been my supporting pillars. She is my role model, her advice and motivation has made me who I am today.
What are your goals in life?
My goal is to improve my educational qualifications so as to become a professional OAP and a successful entrepreneur.
I also want to be part of the success story of Podium Radio & TV in Nigeria.
Five years back, did you ever think of becoming the Face or Podium Radio?
Not really but I have always dreamt of being a popular figure in the society. I always partake in contests.
What were the challenges during this competition?
Sleepless night convincing people to vote for me, and getting broke because of data usage.
Did you ever think of winning?
Yes because in any contest participate, I always put all my strength and effort in winning and I always win.
What's your view about social media?
Social media has been the bedrock of so many people in this generation. It has a great way of bringing family and friends who are far away together. It's is beneficial if used positively though, it can be detrimental if used wrongly.
How has social media helped you?
Social media is a tool and if used good, a lot can be achieved. It gave me the privilege to come across Face of Podiumradiotv contest, and I have also learnt a lot on social media,
How can you weigh the effect of social media on this generation?
Charity they say begins at home, since nowadays parents are too busy running after jobs and how to live a good life, social media has really affect the young generation negatively as alot does not concentrating on their studies and nobody to supervise or censor what they do on social media.
Now that you are the new face of Podium Radio, what are your primary goals?
My main goal is to promote Podiumradiotv and it's sponsor and also organize campaigns on MADAV across the world.
And also to show good examples because others will want to look up to me.
In another five years, where do you see yourself?
I see myself as a professional OAP, mentor, role model and a proud ambassador of MADAV.
What are your plans for the future?
Study more and become a professional OAP and a successful entrepreneur.
What are your plans for your new team?
Firstly, I will start building a strong relationship with my new team, setting out time to start our campaign on drugs and violence and making sure the program comes out in successfully.
What advice do you have for the organizer of the competition?
They should contact big and popular tv and radio stations that will help promote and project the program for the whole world to see.
What's your advice for those who want to step into your shoes?
I will advice them to always put their strength and endurance in becoming a better person. Thanks
Meanwhile, Face of Podium Radio/TV was put together by Podium International based in UK and chaired by Titi Aboyade-Cole. An entertainment personnel. A mother of three and an entrepreneur. Yeye has she's fondly called by her close friends has chains of business and Podium Radio/TV is the new baby.