MADAM EFUNROYE TINUBU: THE POWERFUL KINGMAKER …FIRST WOMAN TO KICK AGAINST BRITISH RULE IN NIGERIA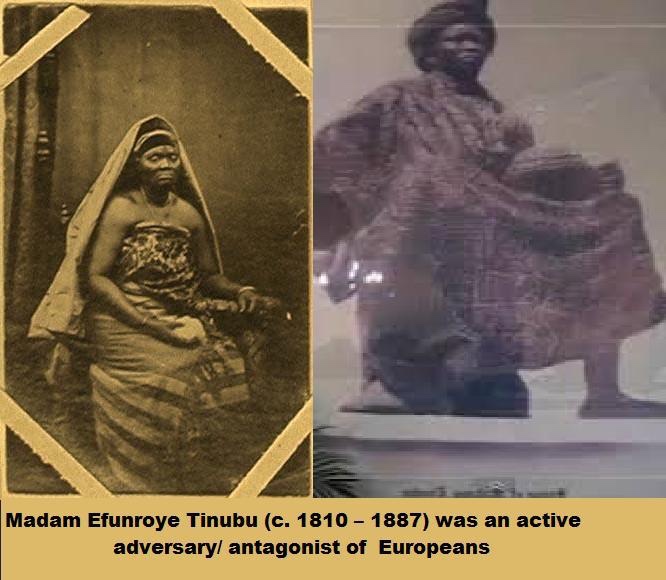 To the British colonialists, Madam Efunroye Tinubu the first Iyalode of Egbaland and ex-Queen of Lagos, was a slave merchant who amassed a lot of fortune from the illicit trade and refused to quit when the Atlantic slave trade was abolished, while to natives, she was a business tycoon, an indomitable Iyalode and a powerful kingmaker who was actively involved in the enthronement of kings in the 18th and 19th Century Lagos and Egbaland.
She is one of the prominent personalities in business, politics and economy of 19th Century Nigeria. She was so powerful that they had to banish her from Lagos after exerting so much power and influence on the natives and the King.
Named Efunporoye Osuntinubu Lumosa (shortened as Efunroye Tinubu) after her birth in 1805 at Gbagura, in present day Abeokuta North Local Government Area of Ogun State. Osun-ti-inu-ibu-wa as her name is fully pronounced (the child given by Osun, the river goddess) was the daughter of Nijeede and Olumosa, a wealthy man in Gbagura.
It will not be out of place to say she was born with a silver spoon, her upbringing amid affluence in Lumosa's compound in Gbagura bears testament to this. Despite having no formal education, she was a shrewd business woman and a smart investor who knew where to put her money – she acquired a lot of landed properties in Lagos. She must have adopted business sense from years of learning market skills from her grandmother, Osunsola, who traded in tree bark, roots, herbs, and leaves and her mother, Nijeede, a food seller.
Historians described Tinubu as a beautiful woman, when she was 20, she married an Owu man (Owu, also in Abeokuta, is the hometown of former President Olusegun Obasanjo) and their union produced two sons.
After the death of her first husband, she started trading tree bark and leaves and got financial support from her father for her new trade. In 1833 Tinubu remarried Prince Adele Ajosun, a deposed Oba of Lagos who had visited Abeokuta after he was dethrone and Oba Esinlokun took his position.
Tinubu's marriage to Prince Adele launched her into the position of affluence, wealth and authority and she would later relocate to Badagry in Lagos with her new husband. It was in Badagry that Tinubu lost her two sons to malaria and also expanded her business activities, adding tobacco, arms and ammunition and slaves trading. Badagry was the meeting point for international and local business activities in Lagos at that time, it was the point of export and import of all forms of merchandise including slaves.
Around 1834–35, when Oba Idewu Ojulari (Esinlokun's successor) died, the kingmakers, who were against Prince Kosoko's candidacy, invited Adele back from exile to be Oba of Lagos for a second time. This opened the door for Tinubu to become a Queen in Lagos. Two years into his second term on the throne, Adele died in 1837. By that time Tinubu had become so influential that she helped her stepson Oluwole ascend the throne as the new Oba.
She married the Oba's military advisor, Yesefu Bada. After Oluwole's death, Tinubu was also instrumental to Akitoye's emergence as the new king, and her political influence grew mightily. However, in 1845, Tinubu and Bada went into exile in Badagry when war broke out between the Oba and his nephew, Kosoko, who had always seen himself as the rightful heir to the throne. Akitoye was exiled and fled to Badagry to join Tinubu and her husband.
In Badagry, she continued to expand her business, traded in palm oil and firearms and monopolised slave trade by preventing the Europeans from dealing directly with the natives which exponentially increased her wealth. She was the middleman between the slave seeking Europeans and the local merchants.
The British bombarded Lagos in 1851, dislodged Kosoko from the throne, and reinstated Akitoye after signing a treaty to outlaw slave trade, Tinubu continued to secretly trade slaves for guns with Brazilians and Portuguese traders. Akitoye also allocated lands to Tinubu which created animosity between the king and some prominent natives.
During her lifetime, she was instrumental to the installation of three kings in Lagos – Oluwole, Akitoye and Dosunmu sealing her place as a formidable Lagos kingmaker. During Dosunmu's reign, Tinubu continued to exert so much power and influence that many started seeing her as a threat.
In 1855, she led a campaign against the repatriated slaves in Lagos for using their wealth and power against Dosunmu, and for subverting the customs of Lagos. Many of the returnees, also called Saro, were favored by the British in commerce and soon began dominating legitimate trade in Lagos. Her revolt against the Saros and powerful Brazilians and Sierra-Leoneans immigrant traders led the British Consul, Benjamin Campbell, to instigate Dosunmu to expel Tinubu and her followers from Lagos to Abeokuta in 1856.
Location didn't limit her, in Abeokuta, Tinubu further expanded her business. During the Dahomey invasion of 1863, history says she contributed to the successful defence of Egba town, for this she was rewarded with the title of Iyalode in 1864. She was the first Iyalode of Egba, this gave her more political power in her hometown and secured her a seat among the men piloting the affairs of Egbaland. This also gave her a voice in the selection and installation of kings in Egba.
From Abeokuta, she opposed colonial policies in Lagos. Up till her death in 1887, Tinubu never had any child after the death of her two sons in Badagry. Tinubu Square on Lagos Island, previously known as Independence Square, is named after her. She was buried at Ojokodo Quarters in Abeokuta.
Culled from – Neusroom